At BritsBrand we're always thinking of ways we can bring the traditions we grew up with and adapt them to our lives here in the USA. Whether is be a hand knitted tea cozy, a staple in every UK home, or beautiful table cloth or runner, we make it. It all started with our breezebreaker (aka windbreaker) and the rest is history. We quickly realized that if we couldn't buy it, no problem, we'll make it! Check out some of our most popular products below. Call or email for all orders and inquiries and check out our "all things British" department in Bella Luna Gifts in Morris. You might even see us there!
The Breezebreaker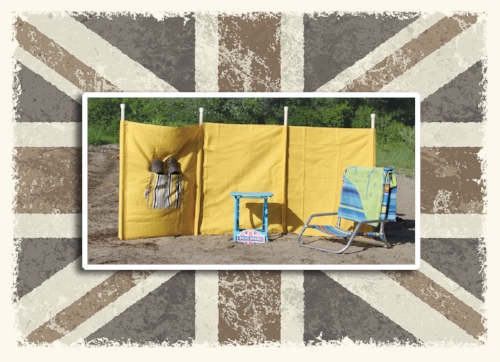 All it took was a windy day at the beach for 3 crazy fun British girls to hatch an idea.
A few hours (make that many hours) at their sewing machines have
produced beautiful, high quality and fun products for the beach.
Made from high quality duck canvas, re-enforced stitching, oversized pockets and a whole lot of British love. The Breeze Breaker protects you from the wind, gives you a bit of privacy and comes with a mallet, poles and a bag with a sturdy, comfortable shoulder strap.
Customer comments:
"I loved it because of the privacy, and I felt like my belongings were safer ."
"This is really well made compared to others that I have seen. The other ones seem cheap."
Check out some of our custom designs……..
Our gift items are available excusively at Bella Luna Gifts in Morris. Here are a selection of what we offer.
Like any of these products? Click here to contact us for pricing and information.